Our News
16th September 2015
The painted school doors of Yuendumu are so famous that they have now been given a permanent home at the South Australian Museum.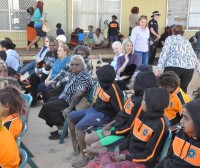 16th September 2015
A ceremony was held in July 2015 to celebrate the handing over of Docker River Primary School to Nyangatjatjara College.
16th September 2015
Nyangatjatjara College will partner with RedPath Education to deliver a vocational education childcare course in 2016.
Pages